The Versatility of Faux Bois Furnishings
The art of faux bois furniture is creating a natural wood-like feel from materials that aren't wood, such as carved stone and concrete. This allows faux bois furniture to be the best of both worlds – all the beauty of wood, but with the longevity of stone. A faux bois piece indeed can last for centuries.
Despite faux bois pieces looking so much like wood, people often attribute the style to rustic elegance. However, as of late, faux bois furnishings have come into their own, and are being used to enhance and complement a variety of interior and exterior design styles.
Top Ways Faux Bois Furnishings Can Complement Your Style:
Farmhouse Style
Farmhouse
While the "farmhouse" style has been enjoying its moment as a trending design preference, it's not a new concept. Professional designers have been crafting beautiful interior spaces and exterior facades with a country living appeal for decades. And faux bois furnishings have been preferred to create a sort of classic wooden rustic style that blends so well in the garden and country lifestyle. It has a tendency to blend well with traditional wood beams and brick and fieldstone design. Few even realize that the wood is indeed "faux" creating a lasting impression among the accents. Faux bois dining tables, side tables, and benches are becoming commonplace in the farmhouse style.
Mediterranean Style
Mediterranean
Don't be fooled. Faux bois has solidified its status in Mediterranean design. The isolated piece is not only a conversation starter but a perfect parallel that complements the typical Med style. With a strong usage of wood and stone within the Mediterranean feel, a faux bois console table against a wall, or simple bench in a living space draws the eye. And because faux bois can mimic virtually any kind of wood, it can meld into the scenery with a neutral, or driftwood feel that is ideal for Mediterranean interiors and exteriors.
Coastal Style
Coastal
As previously mentioned, the natural, even driftwood look of faux bois fits in nicely with a coastal design. However, faux bois comes in various colors and shades of neutral greys and browns common in coastal interior and exterior design. This type of piece can provide an airy, seaside look with little effort and weather year-round coastal living environments.
Traditional Style
Traditional
A no brainer for faux bois, detailed natural pieces (such as an intertwined tree branch or detailed tree trunk) are common in traditional designs, as are woodgrain and earth-tones. The more "rustic" look of faux bois might not seem like a good match for lodge settings only, but it's simply ideal for most traditional styles and striking accent pieces. Think side tables, or perhaps a "woven" mirror for a statement piece that doubles as artwork, and faux bois' natural style adds character to all traditional gardens and patio settings. Plus, it can be mixed with metal, teak, and woven furnishings.
Modern Style
Modern
Less common but certainly applicable, faux bois can be found in modernist and minimalist environments. Often thought of as natural and organic, faux bois can be crafted with smooth, angular edges. A planter in an entryway or a simple yet striking table can weave faux bois into contemporary design blending with stone and natural materials.
HenFeathers: The Top Online Collection of Faux Bois Furnishings
HenFeathers is the purveyor of fine indoor and outdoor furnishings. Our collections and designs appeal to a distinctive buyer, as well as interior and exterior designers with a high-end clientele. We specialize in furnishings such as delightful sculptures, tranquil fountains, beautiful planters and pots, unique clocks and artful wall pieces, faux bois, garden benches, seats, and tables. Inspired by nature, unique architecture, and European antiquities, HenFeathers brings a world of culture, conversation, and whimsy, to every garden and outdoor living space.
You may also like...
HenFeathers Visits The Conservatories of the Famous Brooklyn Botanic Gardens, NY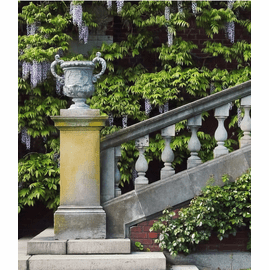 Use the HenFeathers Classic Winterthur Urn to define your "Rooms without a Roof"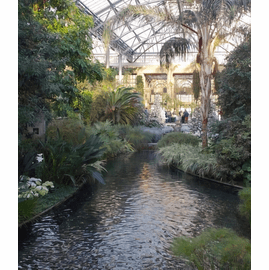 To Keep Warm HenFeathers Enjoys the Indoor Sun Room