How to Design Gardens Around Urns & Planters
Winterthur Museum Classic Urn with Handles
Designing Gardens Around Urns & Planters
Use the HenFeathers Classic Winterthur Urn to define your "Rooms without a Roof"
HenFeathers' Winterthur Museum Classic Urn with Handles is a faithful reproduction from the original urn found in the collection of the Winterthur Museum and Garden in Winterthur, Delaware. Shown here on a garden wall next to the main house at the Winterthur Museum. Hand cast and finished with the finest materials by skilled craftsmen in our USA foundry. The perfect urn to cap a wall or column as a finial or planter in your garden, patio or entrance drive, a garden design statement that works planted or unplanted.
Visit the Winterthur Museum website.
Winterthur Classic Urn on the grounds of the Winterthur Museum.
The Winterthur Classic Urn partialy hidden in a bed of ivy makes for a wonderful "garden discovery".
The Winterthur Classic Urn is a fantastic cachepot.
HenFeathers.com also carries the Winterthur Rooster, a faithful reproduction of the museum's classic rooster.
You may also like...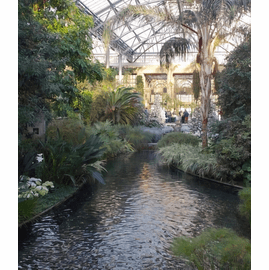 To Keep Warm HenFeathers Enjoys the Indoor Sun Room
Whimsical Pleasure Gardens that Bemuse and Elate the Senses
A vist to Hortulus Farms Gardens and Nursery