Mediterranean Garden Style Ideas
Courtyard of a church In Ano Sangri, Naxos, Greece.
The Mediterranean style garden is a perfect theme for gardens almost everywhere in the USA. With elements and planting ideas taken from Spanish courtyards, Italian terraces, and Grecian landscapes these gardens are both low maintenance and drought tolerant and they are not restricted to the warmer climates and many plants from the Mediterranean regions can flourish in any region of the USA.
Containers prevail, with "groupings" of different style and size planters, urns, jars and vases. Outdoor stairways, courtyards, and entranceways are often lined with dozens of planted pots. Pergolas, gazebos, and secluded nooks are accented with oil jars or large vases.
HenFeathers offers many styles of terracotta pots, jars, and urns. Visit our Terracotta Collection.
A Mediterranean Style Courtyard
A gazebo from a garden on the island of Naxos, Greece. Love how the large vase is used as a table base.
A very popular idea is to use a large oil jar or urn as a base for a table in a quiet sitting area. Mediterranean style gardens can take advantage of unusable spaces, such as steep slopes, small yard areas, idle patios or terraces.
Serenity and beauty are the key themes of the Mediterranean garden. The essential elements include the tranquil sounds and sights of water fountains, wall tiles, cascading vines and plants with brilliant floral splashes of bright reds and yellows of geraniums, bougainvillea, and hibiscus. Cacti are also popular as well as fruit trees – lemon, olive, orange, mandarin, and other citrus.
Winding paths or terrace stairways bordered with brilliant perennials and grasses are also popular elements. Other landscape favorites are roses, lavender, rosemary, and succulents, often potted.
Cactus is often the planting of choice for urns in the Mediterranean Style Garden.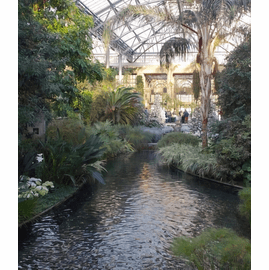 To Keep Warm HenFeathers Enjoys the Indoor Sun Room
Whimsical Pleasure Gardens that Bemuse and Elate the Senses
A vist to Hortulus Farms Gardens and Nursery