A Visit to Morris Arboretum
Beautiful stairway is flanked by two amazing urns.
The Morris Arboretum of the University of Pennsylvania is the offical arboretum of Pennsylvania. Located in Chestnut Hill, just inside of Philadelphia is an amazing collection of landscapes of plants and trees from around the world. It is a wonderful place to spend a day or more exploring. It is a hidden gem just a few minutes from center city Philadelphia.
The arboretum began as the estate of John and Lydia Morris, a brother and sister who began landscaping much of the current site in 1887. John Morris interest was collecting and growing plants from around the world. Around 1900 the site was able to add the many species collected by E. H. Wilson in China and many of today's specimens date to these original plantings.
Stream with some pretty amazing trees. Some of the specimens collected by Thompson Morris. Some of these trees were once thought to be extinct.
The site's 92 acres are home to more than 13,000 labelled plants representing at least 2,5oo types from North America, Europe and with a focus on Asia. It is filled with wonderful garden rooms, walkways, streams, sculptures and, of course, trees and plants by the thousands.
The Swan Pond was built in 1905 by digging and damming the East Brook.
The arboretum is primarily designed in the English park style, but, has many Japanese influences. Features include winding paths and streams, a pond for swans, rose gardens, and vast stretches of azaleas, rhododendrons and magnolias.
Magnolia tree in bloom.
One example of the Asian influences around the arboretum, a pagoda folly sits serenly atop a small hill. Just wonderful.
The Fernery was built in 1899. It is an 8 sided glass house and it thought to be the only remaining free-standing Victorian fernery in North America.
This rustic log cabin is not only beautifully set by a stream, it has a working hand-operated pump.
East Brook wends its way through the grounds.
The Mercury Logia was built in 1913 and houses a sculpture of "Mercury at Rest".
A row of garland vases hightlight a stone balustrade. They are very similiar to our HenFeathers' Garland Vase.
Ever want to get up close to the birds high up in the trees? Out on a Limb, a metal walkway winds between the tree tops and gives you that chance. Fascinating.
The Garden Railway features G scale trains and trollies from throughout the history of railroads.
A key feature is the Sculpture Garden and features sculpts thoughout the grounds.
The "Waltz in the Woods" is one of the most wonderfully unique and whimsical sculpts I've ever seen.
A more traditional and formal garden setting in four quadrants.
This stone bridge leads to the Japanese Overlook, a hybrid English and Japanese garden.
Devonshire Faux Bois Bench Large
You may also like...
Garden Ideas For the Mediterranean Style Garden
HenFeathers Visits The Conservatories of the Famous Brooklyn Botanic Gardens, NY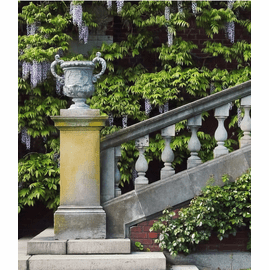 Use the HenFeathers Classic Winterthur Urn to define your "Rooms without a Roof"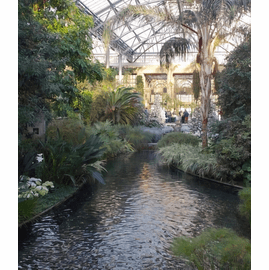 To Keep Warm HenFeathers Enjoys the Indoor Sun Room
Whimsical Pleasure Gardens that Bemuse and Elate the Senses
A vist to Hortulus Farms Gardens and Nursery