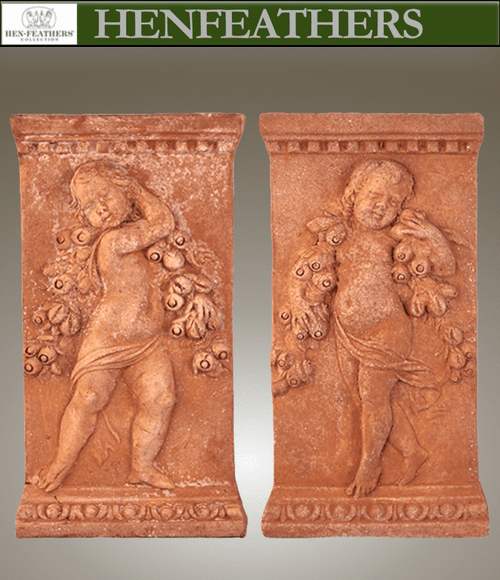 Putti Wall Panel
Click to Enlarge
---
The Putti Wall Panels are two beautiful renaissance styled terracotta wall art panels of putti. The panels are available individually as a left facing or right facing panel or a set of the two panels together. The panels are exquisitely sculpted each with its baby faced figure holding a fruit garland. The top of each panel has a key border whilst the bottem an egg and dart pattern. These beautiful panels are handmade in the original molds. Each work is expertly finished by today's brilliant craftsmen using fine tools and requiring enormous skill and patience.
These panels are distinguished by splendid classicly inspired motif and by their fine detailing. They are both adorably charming. The exquisite handmade beauty is unsurpassable, Heirloom pieces. They are also captivating as a set, perhaps framing an entrance or mounted on a patio or garden wall. The individual and set options are listed in the list below.
These handmade, frost proof, Italian terracotta wall plaques are made in Impruneta, Italy and are among the finest terracotta pieces found anywhere.
Size
Price
Color Qty

HFSRAA-2

Putti Wall Panels

Set of Two

HFSRAA-L

Putti Wall Panel

Left Facing

HFSRAA-R

Putti Wall Panel

Right Facing
You may also like...