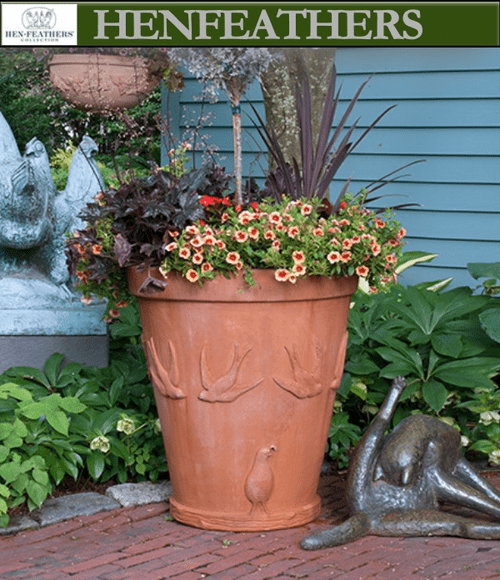 Bird Pot by Richard Hartlage
---
The Bird Pot is from the American Terracotta Collection and are designed by top American talent and handmade in Impruneta. The American Collection marries the highest standards in American style and European quality. These beautiful pots are handmade in the original molds. Each work is expertly finished by today's brilliant craftsmen using fine tools and requiring enormous skill and patience. These planters are distinguished by the graceful swallow motif relief and clean lines. The exquisite handmade beauty is unsurpassable, an Heirloom. NOTE: For extra large designs that require Freight shipping, there is an extra charge depending upon your zip code location.
Birds, bees, flowers, and trees.
Landscape designer, horticulturalist, gardener and bird lover, Richard Hartlage brought together all of his passions in this series for The American Collection. As a lover of joyful design, Richard incorporated the beautiful things that inspire him in the garden. Traditional lines give the containers strong, functional forms. The birds, bees, flowers and trees create a modern and playful motif. Cheerfully warbling barn swallows swoop around the Bird Pot, and a stately California quail perches on the wood grain patterned rim. Honeybees buzz around the Bee Pot grounded by honeycomb. Trilliums delicately encircle the Hanging Flower Pot. The Tree Pot is ringed by a chain of native dogwood flowers, and white oak acorns line the base where a sweet songbird, the titmouse, rests.
23.5" D x 25" H x 19.5" Inner Dia.
***FREIGHT NOTE::::: In the case of large and extra large designs which exceed FedEx ground requirements and must ship by Freight Carrier, there is an additional Freight/Truck charge based upon your zip code location, charged at shipment time
You may also like...