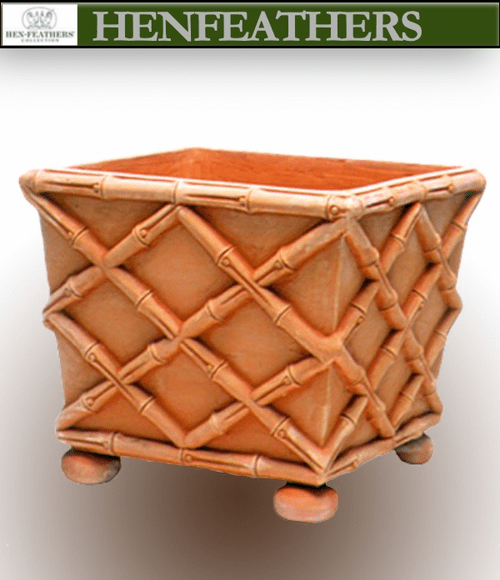 Bamboo Box Planter by Mario Nievera
---
The Bamboo Box is from the American Terracotta Collection and are designed by top American talent and handmade in Impruneta. The American Collection marries top American designers, and their style with Impruneta famous quality. These beautiful boxes are handmade in the original molds. Each work is expertly finished by today?s brilliant craftsmen using fine tools and requiring enormous skill and patience. These planters are distinguished by its splendid bamboo design motif and clean lines. The exquisite handmade beauty is unsurpassable, an Heirloom. NOTE :: For large designs that require freight shipping, there are additional charges depending upon location. We will call about the about the freight charges. Each pot, a masterpiece, heirloom quality terracotta that increases in value over time. Made with the unique clay of Impruneta, high fired in Kilns, they turn the magnificent soft warm pink hues of the Tuscan sun. FROST PROOF: to -20? Fahrenheit The unique chemical composition of the soil in Impruneta, high in iron and other chemicals, combined with the long and high temperature firing process, makes this the most durable terra cotta in the world.
"I wanted to design these pieces to compliment the Impruneta terra cotta finish and quality. I?m fascinated with faux bois garden ornaments; the size of our faux bois planters allows for planting flexibility, symmetrical or asymmetrically balanced pot arrangements and durability in many climates. The bamboo box is large enough for citrus trees, topiaries, standards as well as multi-flowered planting. The Chippendale pattern is wonderful in formal settings, yet bamboo makes it playful and casual. The bun feet allow for circulation, yet compliment the planter." -Mario Nievera
23.5?L x 23.5?W
You may also like...