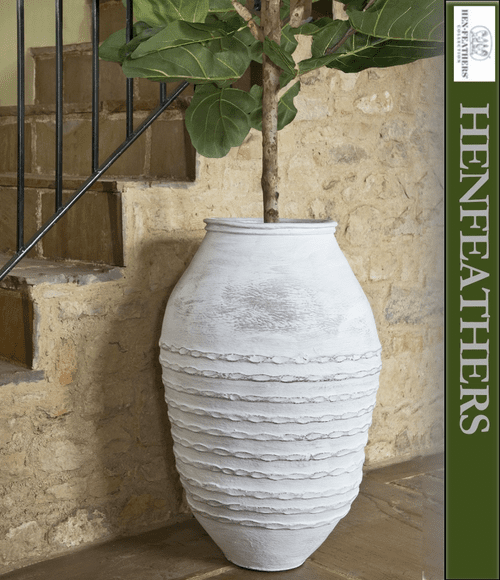 Napflio Jar/Pot
---
The Napflio Jar/Pot is distinguished by its elegant shape, textured patina and is a stunning addition to the HenFeathers Grand Manor collection of estate planters, urns and fountains. Originally used for storing and transporting wine or olive oil around the ancient Mediterranean world, the Napflio Jar is an exquisite ornamental replica meticulously hand cast and hand finished. Like all the designs in our Mediterranean collection, the Napflio Jar/Planter makes an ideal architectural point and accent for interior and exterior designs. It can be grouped with other pots, jars and planters, stood alone or displayed on their sides to embellish any patio, courtyard or garden border or focal point. Great for planting Ivy vines and other vines to grow around the jay and up trellises.
Meticulously hand cast and hand finished patina, in extremely durable marine grade freeze proof fiberglass. Guaranteed outdoor durability. Shown in Antique terracotta finish and Athena White finish, but is available in the finishes as shown in the chart below. Call for additional specialty color finishes.
FREIGHT NOTE : In the case of extra large items there is an additional Freight/Truck charge based upon your location.
21" Dia x 31" H
Size
Price
Color Qty

HFcMED1

HFcMEDSTAND

Aegean Wrought Iron Stand

Only in black wrought iron, color chart does not apply.
You may also like...