Kos Pot {USA}n
---
The Kos Pot is a classic planter pot inspired by pots from the Greek islands. The pot is ribbed in the traditional way and is excellent for small trees, succulents, cacti and florals like bougainvillea. If you travel around Greece you will see many planter pots of this type. They are extremely practical as a planter. Use on a veranda, by an entrance or in the corner of a garden room, inside or outdoors. Extremely attractive as a pair flanking a door, entranceway or foyer.
The Kos Pots are available in three sizes: the medium at 1 1/2 foot diameter and just about the same in height and the larger sibling of almost 2' in diameter and again just about the same in height. The third is an extra large 37" version which has its own product page (see below), but, is shown in the price list below for convenience.
All are excellent values and are extremely versatile planters. Use two or three together in a tiered arrange to create a commanding focal point of any garden setting.
This distinctive urn is meticulously hand cast and hand finished in our USA foundry in extremely durable fiberstone. Fiberstone is a mixture of sand and stones cast into the surface to give the appearance of aged stone. Reinforced with a fiberglass backing, it remains lighter and less fragile than concrete. Guaranteed outdoor durability.
Shown in Sandstone and Pompeii finishes above, but, is available in all the colors shown in the chart below. Make your choice by selecting your finish in the finish/colors options list by the "Add to Cart" button. Finishes are hand applied and may vary, making each piece unique.
*****FREIGHT NOTE::::::: In the case of extra large designs which exceed FedEx ground requirements and must ship by Freight Carrier, there is an additional Freight/Truck charge based upon your zip code location.
Size
Price
Color Qty

HFbFS3356

Medium

18" Dia. x17" H
Weight: 12 lbs

HFbFS7898

Large

23" Dia. x 22" H
Weight: 15 lbs

HFbFS9381

Kos Pot 37"

Extra Large
Color/Finish
Click to Enlarge

---

White Moss (WHM)
Cathedral Stone (CAT)
Sandstone (SAN)

Earthtone (EAT)

Stone (WEA)
Antique Verde (VER)
Pompeii (POM)
Devon Lead (DB)
Antique Stone (AS)

Tuscan Rust (RU)

Iron Black (FB)
Classic White (FW)
Antique Bronze (IR)
Terra Umbria (AUT)
Sea Washed Stone (DPS)
Sussex Stone (COL)
Slate Stone (SMO)
Trafalgar Stone (SOT)

Select your color choice with the options drop-down list above. If there is no options drop-down list with this product please enter your color choice in the comments box at final check-out.
You may also like...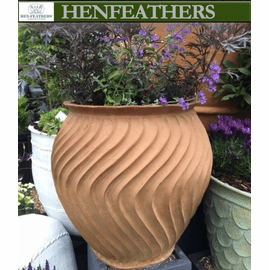 3 Sizes