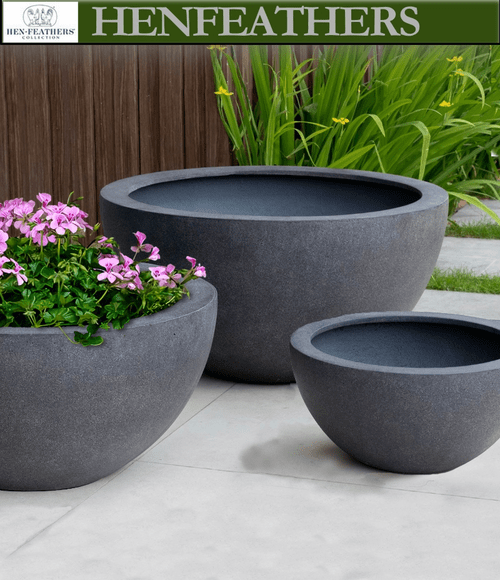 Piccadilly Planter
Click to Enlarge
---
The Piccadilly Planters are a great looking group of classic bowl shaped planters. They feature clean lines and a great silhouette. There are 3 sizes ranging from small to large. These are versatile planters and can be planted with virtually anything such as succulents, ferns, ivies, and flowers. All the planters in this group have one drainage hole, centered, approximately 1/2" - 3/4" in diameter.
These fiberglass planters are rated for both indoor and outdoor use and frequently specified for rooftops and terraces, hospitality projects, public space installations, and restaurants. They are a great choice for projects that do not allow for heavy-weight materials and where large scale plantings are required. Because of their light weight, fiberglass planters are easier to handle and they can withstand UV exposure and extreme temperatures, from high heat to frost and can tolerate the seasonal thaw cycles. Additionally, they won't corrode due to exposure or direct contact with soil.
They are great accents; poolside, beachside, indoors, on a terrace or patio, or by an entranceway. These pots are sold individually, but, they function well as a set of 3 planters in the 3 sizes which when displayed together create a strong 3 tier presentation, but, each pot, we must admit, looks great on its own. The larger pots are perfect for defining a large space or framing an entrance to a home or a veranda or patio.
The Piccadilly Planters are shown here in Charcoal Lite on the left and the other finishes above. The planters are available in all the colors shown in the chart below. Make your choice by selecting your finish in the finish/colors options list by the "Add to Cart" button. Finishes are hand applied and may vary, making each piece unique.
Meticulously hand cast and hand finished patina in extremely durable marine grade freeze proof fiberglass. Strong, reinforced fiberglass but quite light weight. Guaranteed outdoor durability. These are heirloom planters built to last.
Size Details
Large
Medium
Small
29" Dia. x 15.75" HBase: 14" Dia.Inside Top: 22.25" Dia.Inside Bottom: 10.75" Dia.Inside Height: 14.75"Weight: 17 lbs.

NOTE: Freight Shipping included with this design.

25.5" Dia. x 12.25" HBase: 11" Dia.Inside Top: 19.75" Dia.Inside Bottom: 8" Dia.Inside Height: 12"Weight: 12 lbs.
17.75" Dia x 8.75" HBase: 8" Dia.Inside Top: 14.5" Dia.Inside Bottom: 6" Dia.Inside Height: 8.5"Weight: 6 lbs.



Size
Price
Color Qty

HFC94-613-10302

Piccadilly Planter

Small

HFC94-613-10301

Piccadilly Planter

Medium

HFC94-613-10300

Piccadilly Planter

Large
Color/Finish




---

Lead Lite (LL)
Charcoal Lite (CL)
Chalk Lite (CKL)
Ivory Lite (IL)
Onyx Black Lite (OBL)
Rust Lite (RL)
Riverstone Lite (RSL)
Stone Grey (SG)

Select your color choice with the options drop-down list above. If there is no options drop-down list with this product please enter your color choice in the comments box at final check-out.
You may also like...