Gulia Planter
Click to Enlarge
---
The Gulia Planters are a great looking group of classic shapes. They feature a wonderful stone texture around the bowl and a round footed base. They are great accents; poolside, beachside, indoors, on a terrace or patio, or by an entranceway. These pots are sold individually, but, they function well as a set of 3 planters in 3 sizes which when displayed together create a strong 3 tier presentation, but, each pot, we must admit, looks great on its own.
Meticulously hand cast and hand finished patina in extremely durable high density cast stone The medium and large pots are shown here in Greystone (GS) finish and the small in Nero Nuovo (NN), but, all are available in all the beautiful finishes as shown in the chart below. Make your choice with the drop down list by the "add to cart button" in the appropiate row for you size choice. Finishes are hand applied and may vary, making each piece unique.Guaranteed outdoor durability.
Customer supplied photo of her newly planted HenFeathers Gulia planters as entrance to her beautiful patio with fountain. We think they've created the idyllic setting. Click to Enlarge
Size Details
Medium
Small
Large
22" Diam. x 11" HBase: 9" Dia.Weight: 88 lbs.
16" Diam. x 8.5" HBase: 8" Dia.Weight: 40 lbs.
27" Diam. x 13" HBase: 13.75" Dia.Weight: 152 lbs.
NOTE: Freight Shipping included with these designs.
Size
Price
Color Qty

HFCP-407C

Gulia Planter

Small

HFCP-407B

Gulia Planter

Medium

HFCP-407A

Gulia Planter

Large
Color/Finish




---

AlpineStone (AS)
Ferro Rustico (FN)
Pietra Nuova (PN)
Natural White (NA)
English Moss (EM)
Aged Limestone (AL)
Travertine (TR)
Brownstone (BR)
Nero Nuovo (NN)
Lead Antique (LA)
Verde (VE)
Greystone (GS)
French Limestone (FL)
Copper Bronze (CB)

Select your color choice with the options drop-down list above. If there is no options drop-down list with this product please enter your color choice in the comments box at final check-out.
You may also like...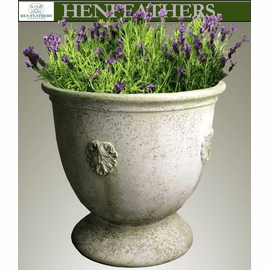 3 Sizes
3 Sizes