Melos Jar
Click to Enlarge
---
The Melos Jar is a stunning addition to the HenFeathers Grand Manor collection of estate planters, urns and fountains. Originally used for storing and transporting wine or olive oil around the ancient Mediterranean world, our Melos Jar is an exquisite ornamental replica that is just stunning. The Melos Oil Jar is a decorative centerpiece of any garden, terrace, pool or indoors as a stunning design piece. With its deep rich patina the Melos Jar will look stunning grouped with any of our Mediterranean pots, planters and jars.
Meticulously hand cast and hand finished patina in extremely durable marine grade freeze proof fiberglass. Strong, reinforced fiberglass but quite light weight. Guaranteed outdoor durability.
Now available in Athena White and in Antique English Lead as shown in the chart below.
FREIGHT NOTE: In the case of extra large designs which exceed FedEx ground requirements and must ship by Freight Carrier, there is an additional Freight/Truck charge based upon your zip code location that will be charged at the time of shipment. Please call with questions 610 649 4078.
24" Dia x 32" H Weight: 20 lbs. (9 kg)
You may also like...
2 Sizes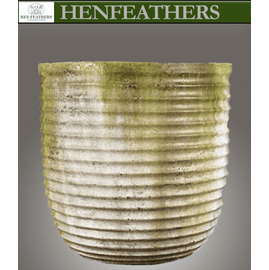 2 Sizes