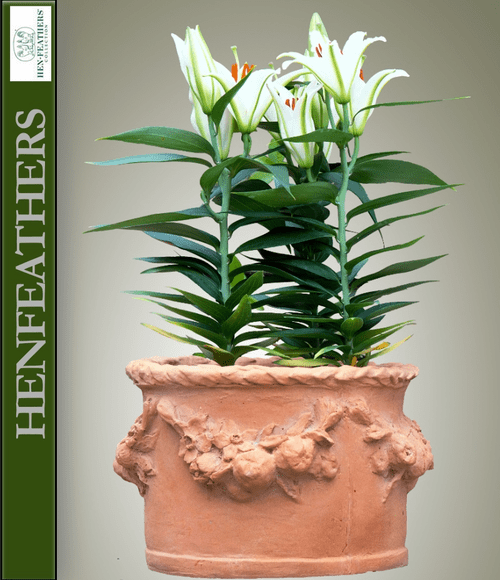 Le Feston Tub Planter
Click to Enlarge
---
The Le Feston Tub Planter is a little charming decorative planter adorned with fruit in a swag design circling the pot with a Grecian leaf pattern around the rim. Perfect in a cottage garden or on a table top for displaying your favorite spring bulbs. While this is a petite planter, it is 1 and 1/2 feet in diameter and makes a terrific herb garden and is perfect for florals.
Meticulously hand cast and hand finished patina in extremely durable marine grade freeze proof fiberglass. Strong, reinforced fiberglass but quite light weight. Guaranteed outdoor durability.
19" Dia. x 9"H
The Le Feston Tub Planter is available in Terracotta and the finishes shown below.
This design is also available in special custom finishes, Call HenFeathers 610 649 4078 for more information.
You may also like...