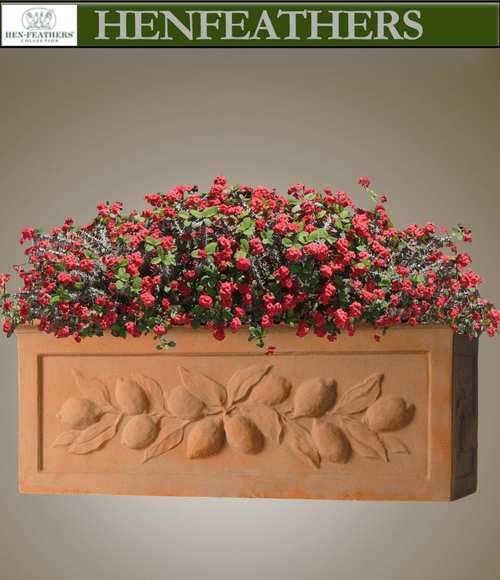 Le Citron Trough Planter
Click to Enlarge
---
The Le Citron Trough Planter is a classic terracotta garden trough planter. This group of fibreglass terracotta planters are a clever alternative to the "real" thing. Lightweight and frost-proof they will survive all weather temperatures in the garden all year round. With the citrus design adorning the planter they are particularly suited to mediterranean planting schemes. The scale of the troughs makes them ideal to use where space is limited, on roof terraces, balconies and small gardens. Available in two sizes, the Le Citron Trough Planter will grace any country garden terrace or smart city space and look stunning planted with florals and succulents. They are perfect, outdoors on a window ledge or inside as a heirloom herb garden. Meticulously hand cast and hand finished patina in extremely durable marine grade freeze proof fiberglass.
The Le Citron Trough Planter is available in Terracotta and the finishes shown below. Guaranteed outdoor durability.
This design is also available in special custom finishes, Call HenFeathers 610 649 4078 for more information.
SHIP NOTE::::::: Certain larger designs which exceed FedEx ground requirements, but, ship by regular ground with an oversized Fed Ex fee, there is a $59 ea. charge at the time of order or at the shipment time.
Customer supplied photo of their their new LeCitron Trough Planter with a terrific planting. We think they've created a wonderful accent for their idyllic garden. Click to Enlarge.
Size
Price
Color Qty

HFcCT18

Medium

19"L. x 9"W. x 7"H

HFcCT35

Large

35"L. x 15"W. x 13"H
You may also like...