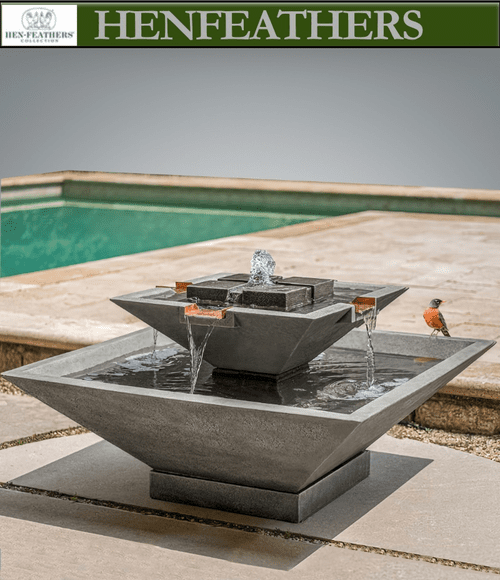 Facet Fountain
Click to Enlarge
---
The Facet Fountain is an elegant freestanding two-tiered square basin fountain that transforms any space by adding the tranquility of water into a home, terrace, balcony, patio or garden setting. The Facet Fountain with its contemporary design is just fascinating, a piece of modern art with a subtle, but, terrific texture. The fountain is distinguished by its unique two tiers of square tapered basins where the water flows from 4 copper inlaid insets in the top smaller basin into the larger bottom fountain; beautiful and mesmerizing. The Facet Fountain comes in two sizes: a large size with an almost 3 foot by 3 foot low basin and a smaller size of about 21" square low basin. Place poolside, in a veranda or patio corner, or in a garden nook.
This distinctive fountain is hand cast and hand finished in our USA foundry in high density cast stone. Guaranteed outdoor durability.
No plumbing necessary. Fountain is self circulating. Includes pump, all hardware and tubing required to properly asssemble the fountain with full step by step directions.
Shown in Antique Stone finish, but, is available in all the colors shown in the chart below. Make your choice by selecting your finish in the finish/colors options list by the "Add to Cart" button. Finishes are hand applied and may vary, making each piece unique. Some assembly required.
Size Details
Large
Small
35.75" Sq. x 20.5" H
Base: 16" x 16"
Pump: 525 GPH
Cord: 16 FT
Recommended Fountain Cover: Medium
Fountain Auto Refill Device Stopper #10
Weight: 378 lbs.
Freight Shipping included with this design.
20.75" Sq. 13" H
Base: 7.5" x 7.5"
Pump: 140 GPH
Cord: 6 FT
Weight: 78 lbs.
Size
Price
Color Qty

HFCFT-347

Facet Fountain

Large

HFCFTNCOV-MED

Fountain Cover

Medium

HFCRefill-10

Auto Refill Device Stopper #10

HFCFT-348

Facet Fountain

Small
Color/Finish




---

AlpineStone (AS)
Ferro Rustico (FN)
Pietra Nuova (PN)
Natural White (NA)
English Moss (EM)
Aged Limestone (AL)
Travertine (TR)
Brownstone (BR)
Nero Nuovo (NN)
Lead Antique (LA)
Verde (VE)
Greystone (GS)
French Limestone (FL)
Copper Bronze (CB)

Select your color choice with the options drop-down list above. If there is no options drop-down list with this product please enter your color choice in the comments box at final check-out.
You may also like...