Rustic Leaf Pots - Set of 2
Click to Enlarge
---
The Rustic Leaf Pot Sets are stunning glazed terracotta pots with wonderfully whimsical leaf design. These vessels have a contrasting bull nose rim around the top and the set consists of two pots, one large and the other slightly smaller. Suitable for inside or outdoor use. Place on a patio, deck, terrace or in a garden setting. Placing the two pots together creates a striking two-tiered display. These planters are distinguished by their wonderful deep multi-layered glazes.
Meticulously hand made and hand finished in high fired terra cotta. The Rustic Leaf Pot Sets are only available in the stunning glazes as shown above. Make your choice by selecting the glaze in the list below.
The four gorgeous glazes are: Rustic Sand, Rustic Green, Rustic Brown and Rustic Blue. It is a tough choice, all four glazes are just stunning. Color finishes are hand applied and may vary making each piece unique.
While the high firing temperature and quality of our glazed and terra cotta containers results in a durable and frost-resistant product, we still recommend that they be stored in a frost-free covered area in winter. If left outside, water may accumulate in the container and freeze, causing the planter to crack and break. Planters that must be left outside should be covered to prevent water, snow and ice from accumulating inside the planter.
Color / Size Details
Rustic Brown
Rustic Green
Rustic Sand
Rustic Blue

Pot 1: 19.75" Dia. x 20.5" HWeight: 69 lbs.
Pot 2: 14.25" Dia. x 15.5" HWeight: 35 lbs.
Total Set Weight: 104 lbs.
Size
Price
Color Qty

HFC115435-13102

Rustic Leaf Pots - Set of 2

Rustic Green

HFC115435-7202

Rustic Leaf Pots - Set of 2

Rustic Brown

HFC115435-12902

Rustic Leaf Pots - Set of 2

Rustic Sand

HFC115435-13202

Rustic Leaf Pots - Set of 2

Rustic Blue
You may also like...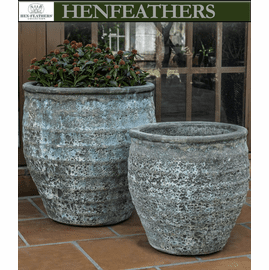 2 Glazes