Rib Vault Planter, Low - Set of 2
Click to Enlarge
---
The Low Rib Vault Planters are large, extremely attractive bowl planters, accented with a rich multi layered glaze patina. Their distinguishing feature is the beautiful rib motif that sets these planters apart. In the HenFeathers collection of glazed pottery, it's all about the patina and the Low Rib Vault Planters are great examples. These pots are available in 5 exquisite glazes; Metallic, Cream, Riviera Blue, Tropical Red, and Indigo Rain. It's a tough choice they are all knockouts.
These Rib Vault Planters are available as a set of 2 only in two sizes: large and medium. The large is a little over two feet in diameter and one foot high. The medium sized bowl is a bit smaller than 2' in diameter and about 8" tall. They are perfect for poolside, verandas, patio corners and practically any indoor/outdoor garden setting. Display individually or together in colorful arrangements to make a special statement.
Meticulously hand made and hand finished in high fired terra cotta. Suitable for Indoor/Outdoor Use. Only available in the beautiful rich finishes as shown.
Our glazed and terra cotta pottery is high fired between 990 (terra cotta) and 1000 (glazed) degrees centigrade to ensure frost resistance and durability. Due to the processes used in the manufacturing of our hand-made and hand-glazed containers, all variations with respect to firing, color, size and crackling are natural occurrences in the manufacturing process. The glazes on our containers consist of natural, not chemical, components and therefore the final color of the product will vary. This process creates the unique beauty of each piece.
Glaze Options Make your choice by selecting its line in the price list below.
Indigo Rain
Riviera Blue
Metallic
Cream
Tropical Red

Set DetailsSet of 2 Weight: 127 lbs. NOTE: Freight Shipping included with these designs.
Large
Medium
28" Dia. x 12" H
21.25" Dia. x 8.75" H
Size
Price
Color Qty

HFC8849-12002

Rib Vault Planter, Low - Set of 2

Metallic

HFC8849-13702

Rib Vault Planter, Low - Set of 2

Indigo Rain

HFC8849-1902

Rib Vault Planter, Low - Set of 2

Riviera Blue

HFC8849-18602

Rib Vault Planter, Low - Set of 2

Tropical Red

HFC8849-5702

Rib Vault Planter, Low - Set of 2

Cream
You may also like...
NEW!
New Glaze - Cerulean Blue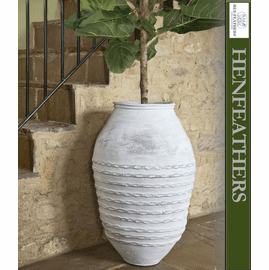 2 Glazes