Rectangular Tall Pedestal
Click to Enlarge
---
The Rectangular Tall Pedestal is a rectangular classic pedestal base with a flat molding about the bottom. Wider than deep, 14.5" x 9.5", the pedestal is perfect for display objects with rectangular bases. With it's clean unembellished lines it is a great fit for many of our urns, planters and sculptures. The base also has a wonderful texture which is great to make an outstanding patina regardless of the finish color. The pedestal is over 2 1/2 feet tall and when matched with a display object such as a sculpture, for example, makes the pair a commanding focal point to a garden niche, patio, entrance drive or an indoor emtrance foyer.
The pedestal is meticulously hand cast in high-density cast stone with a hand finished patina. Use with many of our urns and planters.
The Rectangular Tall Pedestal is shown here in Aged Limestone (AL), but, is also available in all the finishes shown below. Make your finish choice by selecting from the options list below. Finishes are hand applied and may vary, making each piece unique.
14.5" L x 9.5" W x 33.25" HWeight: 304 lbs.Base: 14" L x 9.5" WTop Surface: 13.25" L x 8" W
NOTE: TRUCK FREIGHT included with this design.
Color/Finish




---

AlpineStone (AS)
Ferro Rustico (FN)
Pietra Nuova (PN)
Natural White (NA)
English Moss (EM)
Aged Limestone (AL)
Travertine (TR)
Brownstone (BR)
Nero Nuovo (NN)
Lead Antique (LA)
Verde (VE)
Greystone (GS)
French Limestone (FL)
Copper Bronze (CB)

Select your color choice with the options drop-down list above. If there is no options drop-down list with this product please enter your color choice in the comments box at final check-out.
You may also like...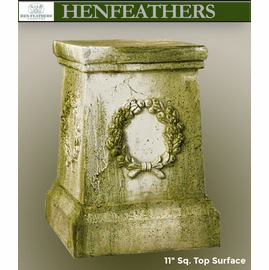 9 Size Configurations
One for every need!