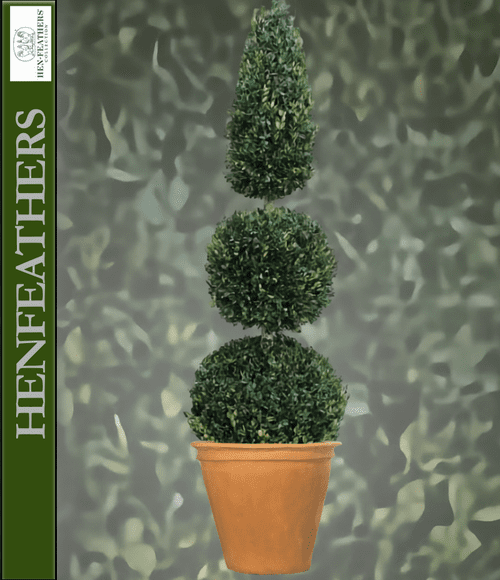 Real Boxwood 60" Double Ball Cone Preserved Topiary
Click to Enlarge
---
This Real Boxwood 60" Double Ball Cone Preserved Topiary is a unique boxwood tree that is preserved and hand crafted by our artisans. This preserved boxwood topiary is lovely and lush and requires no work, no pruning and no watering. An engaging design that brings an inviting air to any room. This 60" Boxwood Double Ball Cone is the perfect accent to celebrate the beauty of our environment. An eye catching height to any room or doorway. Great for hotels, stores and restaurants if your want to create a visual impact.
Each real plant is carefully preserved to maintain its natural shape and color and then hand trimmed and arranged by skilled artisans. This topiary requires no "sun, soil, or water" and is maintenance free.
All our preserved plants and topiaries are naturally preserved using a simple glycerin solution in combination with the controlled heat and humidity of one of our preservation rooms. The glycerin used is food grade (kosher) and totally safe for you and your pets. During the preservation process heat and low humidity dehydrates the plants and flowers, forcing the plants to "drink" the glycerin solution in an effort to rehydrate. The glycerin solution then solidifies in the plant and preserves it for all time. During this process FDA approved food grade dyes can are added to enhance a plants natural colors or even change the natural colors.
The topiary is 5 feet tall. The bottom ball is approximately 16 to 17" in diameter and the top ball is approximately 14 to 15" in diameter.
* No light needed!* No watering!* No trimming!* No maintenance!* Texture and color retained for years!
Planter pots and containers shown in photos above are sold separately.Topiary ships in a basic growers pot.
FREIGHT NOTE: In the case of extra large designs which exceed FedEx ground requirements and must ship by Freight Carrier, there is an additional Freight/Truck charge based upon your zip code location that will be charged at the time of shipment. Please call with questions 610 649 4078.
NOTE: Certain larger designs which exceed FedEx ground requirements, but, ship by regular ground with an oversized Fed Ex fee, there is a $98 ea. charge at the time of order or at the shipment time.
You may also like...