Porthole Weather Center
Click to Enlarge
---
The Porthole Weather Center is simply elegant, a fascinating collection of meteorological instruments that are designed to look like ship portholes. The three nautical themed instruments are brass encased and all rest in a rich mahogany finished hardwood panel in a horizontal layout. The three instruments are a comfortmeter (thermometer/hygrometer), a quartz clock and a barometer. Each is 2-1/2" in diameter. The highest standards of craftsmanship have been employed to assure that these instruments will provide a lifetime of trouble-free service.
The Porthole Weather Center is the perfect gift for the sailor or meteorologist in the family which will be admired and treasured for a lifetime.
The comforter is designed to monitor both temperature and humidity, while featuring the important relationship between the two. The thermometer displays in both Fahrenheit and Celisus on the left scale of the Comfortmeter, and the hydrometer shows percentage of relative humidity on the right. The graphic depicts the optimal range of temperature in yellow and humidity in blue. The ideal target range is represented by the green intersection of these two ranges.
The center instrument is a brass quartz clock with a 12 and 24 hour dial face.
The third instrument and the rightmost is the brass encased barometer. All are simply gorgeous and together make a fascinating meteorological display.
The Porthole Weather Center mounts on the wall or stands free and should be used indoors or outside under roof.
Included: • Brass plate for personalization • N battery • Mounting hardware
Dimensions: 6" x 14" (152 x 355 mm) Wt: 2 lb (1.27 kg) Dial Size: 2-1/2" dia (64 mm)
You may also like...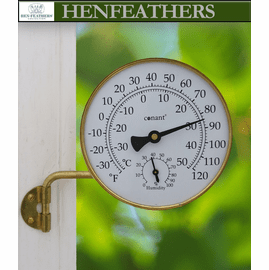 2 Finishes