NYBG Anniversary Planter
---
<
This handcrafted, limited edition terra cotta pot was commissioned to celebrate the 125th Anniversary of the New York Botanical Garden. It bears the NYBG 125th Anniversary imprint. The NYBG Anniversary Planter is from the Seibert & Rice Ornamental Terracotta Collection and is imported from Impruneta, Italy and therefore the best in the world. Handmade in historic workshops by Impruneta's most celebrated artisans, our terracottas are untouchable in both quality and beauty and frost proof to -20° Fahrenheit. These beautiful pots Each work is expertly finished by today's brilliant craftsmen using fine tools and requiring enormous skill and patience. These vases are distinguished by their splendid forms and clean lines. The exquisite handmade beauty is unsurpassable, an Heirloom. NOTE: Larger designs require Freight shipping, Certain freight shipping charges apply depending upon your zip code location. Questions, please call (610) 649-4078.
Size
Price
Color Qty

HFSR1167

Small

13.5" x 7.5" H x 12" Inner Dia.

HFSR1168

Medium

20″ x 11″ H x 17.5″ ID

HFSR1169

Large

27″ x 14.5″ H x 24″ ID
You may also like...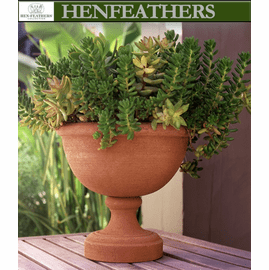 3 Sizes