Mayfair Trough Planter
<
Click to Enlarge
---
The Mayfair Trough Planters are a sleek sophisticated design statement and a very popular one at that. With minimal detailing on the rim and a minimalist design the Mayfair Troughs will fit in both traditional and modern settings alike. The bold design makes the Mayfair Trough Planters ideal for making a statement along the garden path, on the patio, or used as area dividers.
The Mayfair Trough Planters are available in two sizes. Both troughs are 75" long (a tad over 6 feet), but, one is 12" high and 12" deep and the other is 16" high and deep. This design is also available in a shorter length and slightly small height and width as window box and is listed here for convenience.
Shown here in Faux Lead finish. Made from lightweight fibreglass, even this large trough can be handled with ease. Great for framing entrances, gateways, accenting patio and deck corners with displays of ivy, ferns, shrubs, small trees or other topiary arrangements.
Meticulously hand cast and hand finished patina in extremely durable, but, lightweight fiberglass. The Mayfair Troughs are available in all the beautiful finishes as shown in the chart below. Guaranteed outdoor durability.
Size Details
Extra Large 20" Trough
Large 16" Trough
75" L x 20" D x 16" HWeight: 37.5 lbs.
75" L x 16" D x 16" HWeight: 34.7 lbs.
Size Details
Medium 12" Trough
Window Box
75" L x 12" D x 12" HWeight: 24.7 lbs.
38" W x 9" D x 9" HWeight: 9 lbs
This design is also available in special custom finishes, Call HenFeathers 610 649 4078 for more information.
FREIGHT NOTE: In the case of extra large designs which exceed FedEx ground requirements and must ship by Freight Carrier, there is an additional Freight/Truck charge based upon your zip code location that will be charged at the time of shipment. Please call with questions 610 649 4078.
Size
Price
Color Qty

HFcCHEL4

Mayfair Trough Planter 20

75" L x 20" D x 16" H

HFcCHEL3

Mayfair Trough Planter 16

75" L x 16" D x 16" H

HFcCHEL2

Mayfair Trough Planter 12

75" L x 12" D x 12" H

HFcCHELSEA1

Mayfair Window Box

38" W x 9" D x 9" H
You may also like...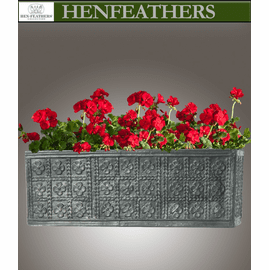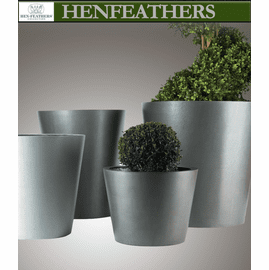 4 Sizes