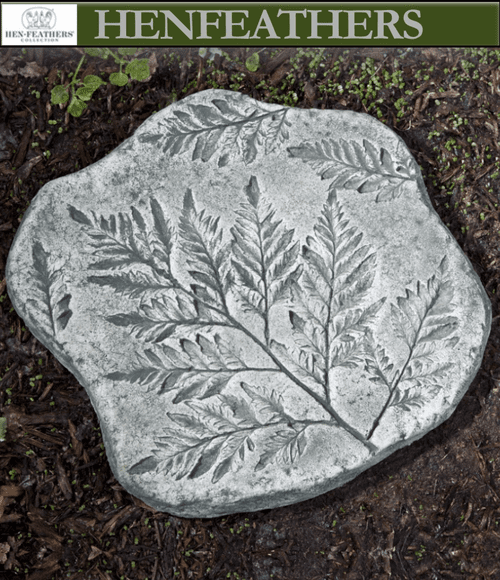 Fossil Fern Stepper
---
Our Fossil Fern Stepper is an unique garden stepping stone with an fantastic fossilized fern design. Use two or more of these steppers to make a wonderful path through a garden or across a lawn. The design is quite interesting and extremely well done as if you are walking back through the paleozoic era. They are so well done, in our opinion, that they might even double as a piece of wall art hung on a garden wall. A very charming sculpture, carved with amazing detail that will bring a smile each time it's walked upon. Place in any garden setting indoors or outside.
A well executed sculpture, meticulously hand cast and with hand finished patina in extremely durable Cast Stone. Shown in Alpine Stone (AS) finish above, but, is available in any of the finishes shown below. Guaranteed outdoor durability.
14" x 13" x 1.25" thick
Weight: 10 lbs.
Color/Finish




---

AlpineStone (AS)
Ferro Rustico (FN)
Pietra Nuova (PN)
Natural White (NA)
English Moss (EM)
Aged Limestone (AL)
Travertine (TR)
Brownstone (BR)
Nero Nuovo (NN)
Lead Antique (LA)
Verde (VE)
Greystone (GS)
French Limestone (FL)
Copper Bronze (CB)

Select your color choice with the options drop-down list above. If there is no options drop-down list with this product please enter your color choice in the comments box at final check-out.
You may also like...