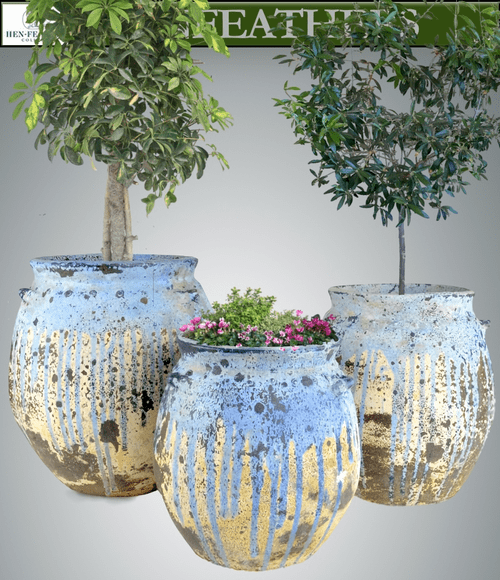 Argenta Blue Urn
Click to Enlarge
---
The Argenta Blue Urns are medium sized urns that are simply stunning. Not only do they have a classic shape they possess amazingly beautiful multi layered patinas with a strong Mediterranean vibe. Inspired by classic world shapes that have been staples in Italian gardens for centuries, the dark olive green planters have pitting in its terracotta surface to create the ruse that it, too, has been tucked away in the landscape for eons. Whether they are planted or not, they will be a vintage-inspired decorative piece of value. These urns are perfect for poolside, verandas, patio corners and practically any indoor/outdoor garden setting. In groupings of two or three these urns make a special statement. Use several to line a walkway or large foyer or display.
Argenta Blue Urns are available in three sizes All are good sized urns with versatile use. The Argenta Blue Urns are the same urns as the Castellina Olive Urns except for the patinas. (See below) All are simply gorgeous.
Meticulously hand made and hand finished in high fired terra cotta. The Argenta Blue Urns are only available in the rich patina glaze as shown. The glazes on our containers consist of natural, not chemical, components and therefore the final color of the product will vary. This process creates the unique beauty of each piece.
DetailsFinish: Greenish White/Blue DripMaterials: Terracotta
Large
Medium
Small
15.75" Dia. x 17.75" HWeight: 42 lbs.
13.5" Dia. x 15" HWeight: 31 lbs.
12" Dia. x 13" HWeight: 22 lbs.
NOTE: Certain larger designs which exceed FedEx ground requirements, but, ship by regular ground with an oversized Fed Ex fee, there is a $98 ea. charge at the time of order or at the shipment time.
Size
Price
Color Qty

HFY2200-0012

Argenta Blue Urn

Small

HFY2200-0010

Argenta Blue Urn

Medium

HFY2200-0008

Argenta Blue Urn

Large
You may also like...