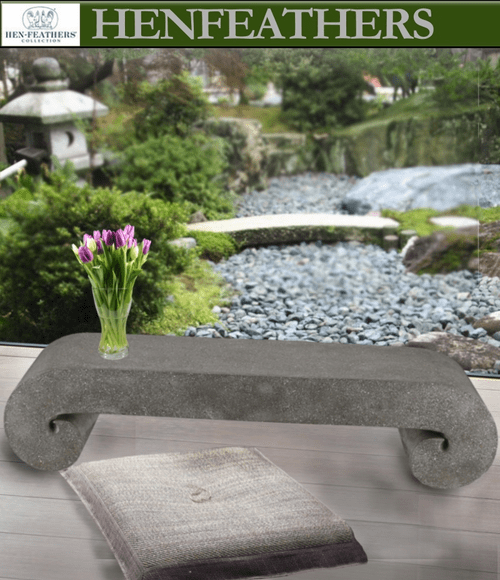 Zen Tea Table
Click to Enlarge
---
The HenFeathers Collection also offers modern style garden furniture designs artfully formed in the Faux Bois method. Made of polished concrete that is sprinkled with abalone shells like fairy dust, the Zen Tea Table has an Asian flair with its curling form that culminates in rounded feet. As with all of our concrete garden furniture, the Zen Tea Table is outdoor worthy and super durable with its cement mixture poured around an iron frame. The table is sturdy enough for the outdoors but it will lend a rough luxe charm to any room indoors. A substantial Heirloom piece for your collection.
NOTE: Freight shipping included in the price for this design.
For more details about our Faux Bois furniture Collection please email us at "Contact Us" at the bottom of this page, or call HenFeathers 610 649 4078.
12" H x 53.75" L x 20.125" D Weight: 210 lb
Special Note:::
Due to the hand-crafted nature and materials of this faux bois furniture it is normal that color, finish and texture vary from item to item, much like an aged fine antique. Cracks and an "aged or worn" look are inherent characteristics and are part of the charm and desirability of this item. If these are not desirable features for your tastes and sensibilities please consider purchasing another item. Thank You.
You may also like...