Lattice Weave Planter (Aluminum) {USA}n
Click to Enlarge
---
The Lattice Weave Planter in Aluminum is an heirloom quality planter that is a stunning addition to the home, patio, terrace or garden. Great for small trees, ferns, and topiary these planters bring outdoor ambience to your indoor garden spaces as well.
Our Lattice Weave Planter is now available in two sizes: a large 20" square and the new medium size 15.5" square. Use them together to create an attractive tiered planter vignette.
These planters are American made in Cast Aluminum and are welded, prepped, painted and hand finished with reliability and longevity in mind. Our unique finishing process gives every piece the strength to withstand the harshest of elements without surrendering any of its character. Each piece is sanded, brushed and painted by hand.
The Lattice Weave Planters are available in all the finishes shown below. Make your finish choice by selecting from the options list below.
NOTE::: Aluminum also great for commercial use, higher traffic areas; stores, hotels, offices, parks, public spaces, golf and tennis clubs etc.
FREIGHT NOTE: In the case of the large size which must ship by Freight Carrier, there is an additional Freight/Truck charge based on your zip code location.
Size Details
Large
Medium
20" H x 20" W x 20" L
15.25" H x 15.5" W x 15.5" L
This design also available in outdoor highly durable marine grade Fiberglass, bonded marble.
Size
Price
Color Qty

HFTC3046

Lattice Weave Planter (Aluminum)

Medium

HFTC911

Lattice Weave Planter (Aluminum)

Large
Color/Finish




---

Essex Lead (EL)
Burnished Wood (BW)
Textured Black (TB)
Antique White (AW)
Classic White (CW)
Classic Black (CB)
Royal Orange (RO)
Classic Red (CR)
Bright Red (BR)
Royal Blue (RB)
British Green (GB)
Sienna (S)
Sea Foam (SF)
Sunshine Yellow (SY)
Lime Green (LG)
Fuchsia (F)
Indigo Blue (IB)
Athena White (ATW)
Green Verdi (GV)
Blue Verdi (BV)
Bronze (BR)

Select your color choice with the options drop-down list above. If there is no options drop-down list with this product please enter your color choice in the comments box at final check-out.
You may also like...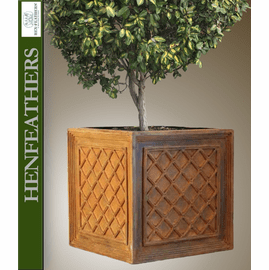 4 Sizes