Woodland Fern Study Planter
---
The Woodland Fern Study Planter are large vase planters with a wonderful raised woodland fern design. Available in three sizes, the Woodland Fern Study Planter will grace any country garden terrace or smart city space and looks stunning planted with small trees and shrubs. They are perfect, outdoors or inside, for foyers, atria, decks, entrances verandas or for any large garden space that cries out for a dominant focal point.
Plant with small trees, bougainvillea, topiary or large bushes. Meticulously hand cast and hand finished patina in extremely durable marine grade freeze proof fiberglass. The Woodland Fern Study Planter is available in three of our beautiful finishes, Terracotta, Antique English Lead, and Athena White as shown in the chart below. Guaranteed outdoor durability.
This design is also available in special custom finishes, Call HenFeathers 610 649 4078 for more information.
FREIGHT NOTE ::: In the case of certain larger designs which exceed FedEx ground requirements and must ship by a Freight Carrier, there is an additional Freight/Truck charge based upon your zip code location.
Size
Price
Color Qty

HFcFERN1215

Medium

14" Dia. Top x 9" Dia. Base x 11" H

HFcFERN1815

Large

18" Dia. Top x 10" Dia. Base x 15" H

HFcFERN1923

Extra Large

22" Dia. Top x 13" Dia. Base x 18" H
You may also like...
5 Sizes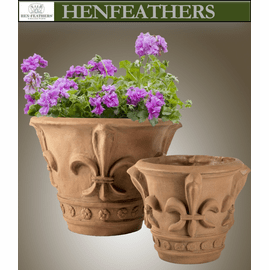 2 Sizes