Westmere Planter Onyx Black
Click to Enlarge
---
The Westmere Planter in Onyx Black is a beautiful tall tapered square planter. With its beautiful, clean lines and rich burnished rust patina the Westmere tapered Planter will fit in both traditional and modern settings alike. Perfect for entrances, patios and practically any indoor/outdoor garden setting. Meticulously hand cast and hand finished patina in extremely durable marine grade freeze proof fiberglass. Guaranteed outdoor durability. Strong, reinforced fiberglass but quite light weight.
The Westmere Planter is also available in three additional finishes; Rust, Lead, and Stone Grey. (See below)
Size
Price
Color Qty

HFC94-126-13901

Medium

17.75" Sq. Top x 17.75" Sq. Bottom x 27.5" H
wt: 19 lbs

HFC94-126-13900

Large

23" Sq. Top x 35.5" H x Base: 23"
Weight: 40 lbs.
You may also like...
2 Sizes
2 Sizes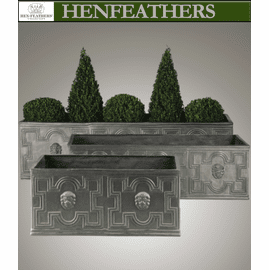 4 Sizes
6 Sizes
2 Finishes