Vermont Comfortmeter
Click to Enlarge
---
The brass Vermont Comformeter is designed to monitor both temperature and humidity, while featuring the important relationship between the two. The thermometer displays in both Fahrenheit and Celisus on the left scale of the Comfortmeter, and the hydrometer shows percentage of relative humidity on the right. The color graphic depicts the optimal range of temperature in yellow and humidity in blue. The ideal target range is represented by the green intersection of these two ranges.
The easy-to-read 4" diameter dial is mounted on a solid brass stand for stability, making it great for monitoring greenhouses, sunrooms, or mildew problem areas. The Comfortmeter may be used in combination with a humidifier or de-humidifier to maximize its benefits and your comfort. The solid brass housing of the Comfortmeter will age beautifully over time, eventually developing a lovely patina. The highest standards of craftsmanship have been employed to assure that this instrument will provide a lifetime of trouble-free service.
•4" dial with color graphics to display comfort zone •Exclusive FR4 precision Japanese coil measures both Fahrenheit and Celisus •Hydrometer movement measures humidity •Free standing, solid brass base that won't peel, flake, or rust; patinas with age •Glass crystal won't yellow or craze •Finish: Living Finish Brass •LIFETIME Manufacturer Warranty
You may also like...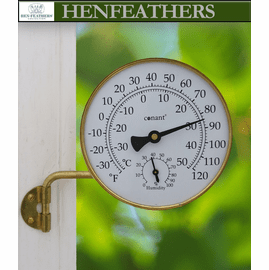 2 Finishes