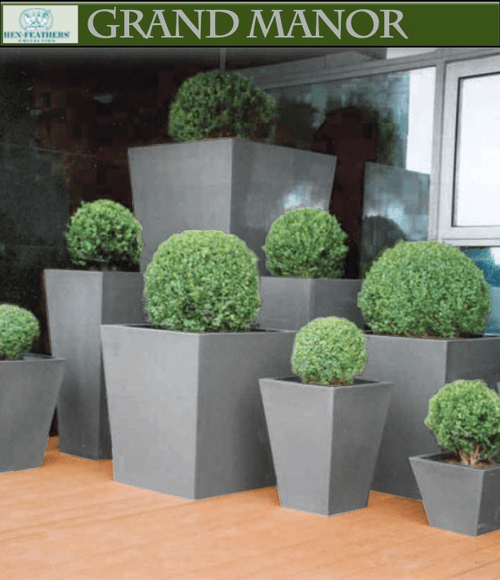 SoHo Tapered Planter
---
Part of the HenFeathers Grand Manor collection of estate planters, urns and fountains, the SoHo Tapered Planter group of planters and troughs. These modern tapered planters are one of our best selling designs. The classic understated elegance of the design speaks for itself. The streamlined shape makes it a great backdrop for all kinds of foliage and floral colour, simultaneously echoing the clean lines of modern architecture and planting. Great for framing entrances, gateways, accenting patio and deck corners with displays of ivy, ferns, shrubs, small trees or other topiary arrangements. The planters are available in the finishes shown below.
Meticulously hand cast and hand finished patina in extremely durable marine grade freeze proof fiberglass. Guaranteed outdoor durability.
This design is also available in special custom finishes, Call HenFeathers 610 649 4078 for more information.
FREIGHT NOTE : In the case of certain larger items there is an additional Freight/Truck charge based upon your location.
Size
Price
Color Qty

HFcGEO6

Small

14" x 9" Base x 11" H

HFcGEO14

16" Height

14" x 6" Base x 16" H

HFcGEO17

39" Narrow

13" x 9" Base x 39" H

HFcGEO16

21" Height

11" x 7" Base x 21" Height

HFcGEO2

22" Height

17" x 10" Base x 22" H

HFcGEO1

39" Height

20" x 13" Base x 39"H

HFcGEO18

47" Height

16" x 12" Base x 47" H

HFcGEO12

30" Height

28" x 22" Base x30" H

HFcGEO11

55" Height (L)

24" x 16" Base x 55" H

HFcGEO9

69" Height (XXL)

35" x 22" Base x 69" H

HFcGEO15

XXL Wide

59" x 51" Base x 39" Height
Color/Finish

Aluminum Textured (ALT)
Faux Lead Noir (FLN)
Old Penny Copper (OPC)
Antique English Lead (AEL)
White (SW)

Select your color choice with the options drop-down list above. If there is no options drop-down list with this product please enter your color choice in the comments box at final check-out.
You may also like...