Sheepscot Bay Indoor Lantern
Click to Enlarge
---
With two-toned metal finish and scalloped detail, the Sheepscot Bay Indoor Lantern is classic in style. Stunning focal points in any environment. Either lantern is a substantial piece for the front porch (under roof), the stairwell or the mantle. With an wide octagonal base, multiple candles may be used, makeing a striking statement of glowing ambiance, a great accent piece inside and outside under porch.
These lanterns are available in 2 sizes: one at about 20" tall and the taller version at almost 2 feet in height (23.5" ). The lanterns are excellent to display as a 2 tier pair and they are large enough to be presented on the floor, stairs etc. as well as on a small side table on a stairway landing. A beautiful way to add ambiance and character for a special evening.
Designed for interior or under porch use. Do not expose to the elements. Clean with damp cloth. Avoid chemicals that may be harmful to finish. Never leave a burning candle unattended. Never leave a burning candle unattended.
• Gray/Brass • Candles not included.
Size Details
Large
Medium
8.75" x 8.5" x 23.5" H"
8.5" x 8.5" x 19.5" H
You may also like...
2 Sizes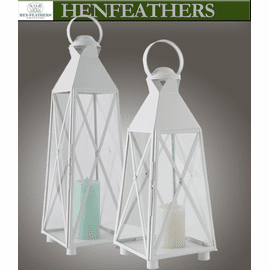 2 Sizes