Savona Hurricane
Click to Enlarge
---
With their own unique graphic patterns etched into a thick glass vessel of a deep jewel tone, the sizable 8 x 7.75 Savona Hurricanes are gallery-worthy pieces of art for the home. Modern in scale and form, this beauty effortlessly commands the room. They make a striking statement of glowing ambiance, a great accent piece inside and outside under porch.
These hurricanes are available in 3 colors: Amber, Dark Brown and Plum. Thy are excellent to display as a 3 candle grouping and they look wonderful on a small side table, mantel or practically anywhere. They are also excellent as the center attraction of a table centerpiece arrangement and they add a warm radiance in the evening on a coffee table under porch.
Designed for under porch or interior use. Clean with damp cloth. Avoid chemicals that may be harmful to finish. Never leave a burning candle unattended. Candles not included. Never leave a burning candle unattended.
Size Details
Dark Brown
Amber
Plum
7.75" Dia. x 8" H
7.75" Dia. x 8" H
7.75" Dia. x 8" H
Size
Price
Color Qty

HFnSH425BR

Savona Hurricane

Dark Brown

HFnSH425YLD

Savona Hurricane

Amber

HFnSH425PR

Savona Hurricane

Plum
You may also like...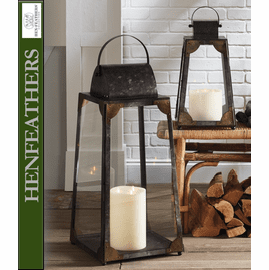 2 Sizes
2 Sizes