Menerbes Jar
Click to Enlarge
---
The Ménerbes Jar is simply a gorgeous large vase planter. Not only does it have a classic shape, it possesses an amazingly beautiful multi-layered Aegean patina. Stunning. The Ménerbes Jar is just over 2 feet high and 20" in diameter and weighing in at 83 lbs. it is a fairly substantial pot that is not prone to tipping over and able to display large succulents, ferns, topiary or small trees. The highlight of this pot is its rich patina, just breathtaking. It is perfect for poolside, verandas, patio corners and practically any indoor/outdoor garden setting. In groupings of two or three these vases make a special statement. Use several to line a walkway or large foyer.
Meticulously hand made and hand finished in high fired terra cotta. Our Ménerbes Jar is only available in the rich Aegean glaze as shown above.
Our glazed and terra cotta pottery is high fired between 990 (terra cotta) and 1000 (glazed) degrees centigrade to ensure frost resistance and durability. Due to the processes used in the manufacturing of our hand-made and hand-glazed containers, all variations with respect to firing, color, size and crackling are natural occurrences in the manufacturing process. The glazes on our containers consist of natural, not chemical, components and therefore the final color of the product will vary. This process creates the unique beauty of each piece.
NOTE: Freight Shipping included with this design.
20" dia. x 24.75" H Base: 8.75" dia. Interior Top: 11" Interior Bottom: 5.5" Interior Height: 24" Weight: 83 lbs
You may also like...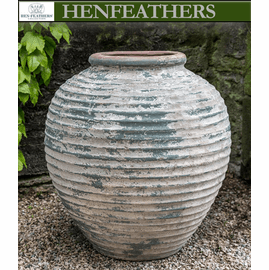 2 Glazes