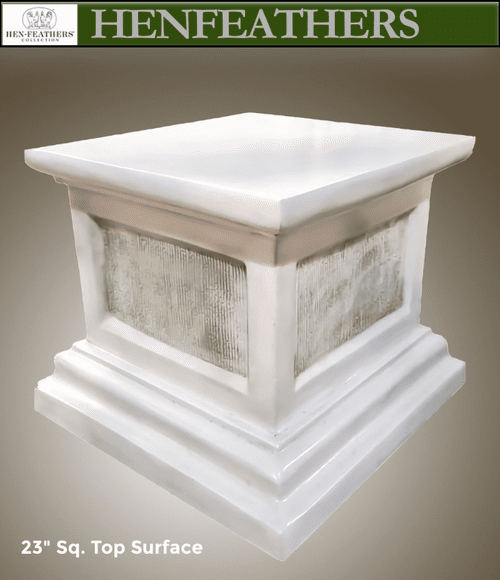 Megara Pedestal
Click to Enlarge
---
The Megara Pedestal is a singular rectangular classic pedestal that will work with a wide variety of large display objects. The pedestal has 23" square top surface which is ideal for use with large urns and even life-sized sculpture where a square base is desired. This pedestal is distinguished by the rectangular incised inset on each face giving the pedestal its classic look. The base is slightly larger at the base (25" sq.) than the top making the Pedestal very stable. A riser pedestal creates a commanding focal point in a garden niche, patio, outside entrance or an indoor entrance foyer. The Megara Pedestal is the ideal base for our Rochefort Urn as shown below.
This distinctive pedestal is meticulously hand cast and hand finished in our USA foundry in extremely durable fiberstone. Fiberstone is a mixture of sand and stones cast into the surface to give the appearance of aged stone. Reinforced with a fiberglass backing, it remains lighter and less fragile than concrete. Guaranteed outdoor durability.
The Megara Pedestal is shown here in Sandstone and Antique Stone finishes, but, is also available in all the finishes shown below. Make your finish choice by selecting from the options list below. Finishes are hand applied and may vary, making each piece unique.
25"Square x 21" H 23" Top Useable Surface Base: 25" square
Color/Finish
Click to Enlarge

---

White Moss (WHM)
Cathedral Stone (CAT)
Sandstone (SAN)

Earthtone (EAT)

Stone (WEA)
Antique Verde (VER)
Pompeii (POM)
Devon Lead (DB)
Antique Stone (AS)

Tuscan Rust (RU)

Iron Black (FB)
Classic White (FW)
Antique Bronze (IR)
Terra Umbria (AUT)
Sea Washed Stone (DPS)
Sussex Stone (COL)
Slate Stone (SMO)
Trafalgar Stone (SOT)

Select your color choice with the options drop-down list above. If there is no options drop-down list with this product please enter your color choice in the comments box at final check-out.
You may also like...