Largo Outdoor Lantern
Click to Enlarge
---
The Largo Outdoor Lantern is our most architectural and streamlined lantern to date. Powder-coated for exterior use and finished in a beautiful patina, these large lanterns makes a striking statement with glowing ambiance, a great accent piece inside and outside.
These lanterns are available in 2 sizes: 19" and a 30" version. Place either on the side of a porch step or light a stairwell. The lanterns are excellent to display as a 2 tier pair and they are large enough to be presented on the floor, stairs as entrance lanterns etc. as well as on a small side table on a stairway landing.
They are an extremely durable heirloom pieces. Patina will evolve over time and with exposure to the elements. Clean with damp cloth. Avoid chemicals that may be harmful to finish. Candles not included. Never leave a burning candle unattended.
Size Details
Large
Medium
10" Square x 30.25" H
8" Square x 19.25" H
Size
Price
Color Qty

HFnPX401

Largo Outdoor Lantern 19"

8" Sq. x 19.25" H

HFnPX400

Largo Outdoor Lantern 30"

10" Sq. x 30.25" H
You may also like...
2 Sizes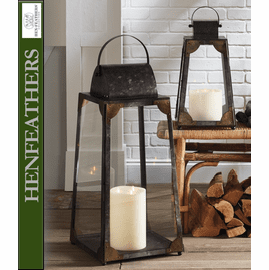 2 Sizes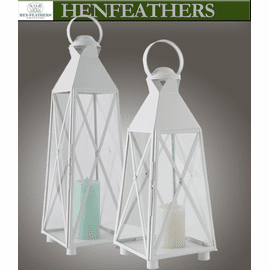 2 Sizes