Large Dial Thermometer 8.5"
---
This super-sized large dial thermometer is easy-to-read from far away. The arm of the thermometer is reversible for trouble-free mounting on any window, wall, or post. Matching hardware is provided and the convex glass crystal assures a clear view of the large, classic numerals measuring both Fahrenheit and Celsius scales.
Shown to the left in the Satin Nickel Finish, this thermometer is also available in a beautiful bronze finish. Make your finish selection in the list below.
This quality construction comes with a 10 year manufacturer guarantee! Please keep the original receipt as the warranty cannot be honored without it.
•Super-sized 8.5" dial with extra large numerals for easy reading from across the room •Reversible bracket for easy mounting on any suitable surface - indoors or outdoors, left or right •Matching hardware included •FR4 precision coil measures both Fahrenheit and Celisus more accurately across a greater range of temperatures (20 to 110 degrees) •Long-lasting anodized aluminum and glass construction •Durable, attractive finish •Glass crystal won't yellow or craze •Finish: Bronze Patina or Satin Nickel Patina •10 Year Manufacturer Warranty
Size
Price
Color Qty

HFT10SN

Large Dial Thermometer

Satin Nickel Finish

HFT10BP

Large Dial Thermometer

Bronze Finish
You may also like...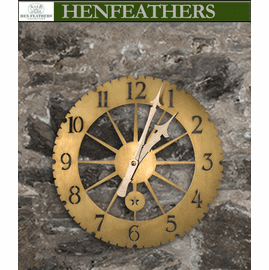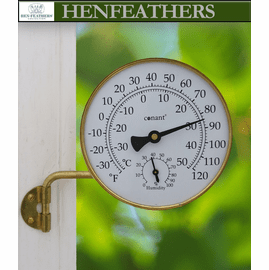 2 Finishes