Juniper Topiary Globe Preserved
Our globe topiaries are unique preserved juniper plants that are as individual as live plants. Artificial topiaries made from plastic or nylon can never look naturally beautiful like as a real plant. Add a wonderfully manicured Globe Topiary to your living areas. The smaller topiaries make wonderful additions to tables, fire place hearths ,centerpieces and open counter areas. The larger topiaries fill and enliven room corners or look great next to doorways in pairs and stair cases or conference rooms. Sold in a standard pot .
No light needed, No watering, No trimming, No maintenance Texture and color retained for years!
Size
Price
Color Qty

HFfgaGLO007

7" Height

HFfgaGLO011

11" Height

jutoglpr15

15" Height

HFfgaGLO018

18" Height

HFfgaGLO024

24" Height

HFfgaGLO030

30" Height

HFfgaGLO036

36" Height
You may also like...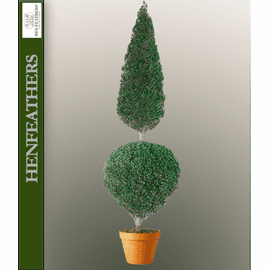 5 Sizes