Gibbons Window Box
---
The Gibbons Window Box is a classic and stylish addition to the HenFeathers Grand Manor collection of estate planters, urns and fountains. The Gibbons Window Box is a sophisticated design statement, with beautiful detail in the relief. Meticulously hand cast and hand finished patina in extremely durable marine grade freeze proof fiberglass. Strong, reinforced fiberglass but quite light weight, perfect for hanging. Guaranteed outdoor durability. Shown in Faux Lead Noir.
This design is also available in special custom finishes, Call HenFeathers 610 649 4078 for more information.
FREIGHT NOTE : In the case of certain larger items there is an additional Freight/Truck charge based upon your location.
IDEA!! The Gibbons Window Box is ideal as an exquisite heirloom indoor herb planter.
Size
Price
Color Qty

HFcAD2403

Small

24"W x 11"D x 8"H

HFcAD3602

Medium

36"W x 11"D x 8"H

HFcAD5401

Large

54"W x 11"D x 8"H

HFcAD6001

Extra Large

60"L x 11"D x 8"H
You may also like...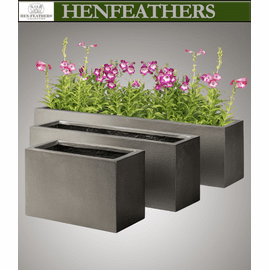 3 Sizes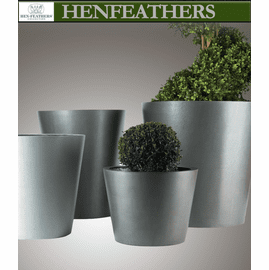 4 Sizes