Coquille Anduze Urns - Set of 3
Click to Enlarge
---
Our Coquille Anduze Urns - Set of 3 are a stately group of urns. Not only do they have the classic anduze shape they possess a rich Antique Glaze patina with burnished deep bronze highlights. Just awesome. The set of urns has 3 urns of different sizes ranging from very large to medium. The urns feature bronze highlighted acanthus buttons in the wonderful garland accent. They are perfect for poolside, verandas, patio corners and practically any indoor/outdoor garden setting. In tiered groupings of two or more these vases make a special statement. Use them to line a walkway or accent a foyer. Meticulously hand made and hand finished in high fired terra cotta.
Our glazed and terra cotta pottery is high fired between 990 (terra cotta) and 1000 (glazed) degrees centigrade to ensure frost resistance and durability. Due to the processes used in the manufacturing of our hand-made and hand-glazed containers, all variations with respect to firing, color, size and crackling are natural occurrences in the manufacturing process. The glazes on our containers consist of natural, not chemical, components and therefore the final color of the product will vary. This process creates the unique beauty of each piece.
These Anduze Urns are available in the four rich glazes shown here. Make your choice by selecting your finish in the list below.
Antique Glaze
Cerulean Blue
Antique White
Terra Rosa
Set Details
Extra Large
Large
Medium
22.4" Dia. x 25.6" H
Base: 15" Dia.
Weight: 95 lbs.
14.6" Dia. x 17.5" H
Base: 10" Dia.
Weight: 31 lbs.
11.8" Dia. x 13.75" H
Base: 8" Dia.
Weight: 17 lbs.
Set of 3 Weight: 143 lbs..
NOTE: Freight Shipping included with these designs.
Size
Price
Color Qty

HFc6360-1503

Coquille Anduze Urns - S/3

Antique Glaze

HFC6360-20503

Coquille Anduze Urn - S/3

Cerulean Blue

HFC6360-0103

Coquille Anduze Urn - S/3

Antique White

HFC6360-8603

Coquille Anduze Urn - S/3

Terra Rosa
You may also like...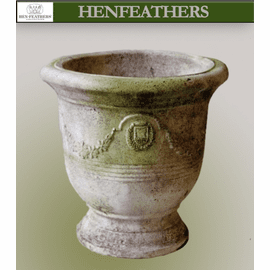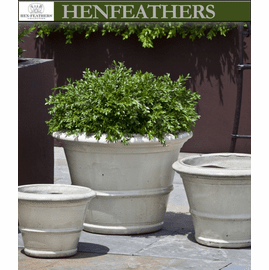 2 Sizes