Classic Spiral Topiary Preserved
Click to Enlarge
---
Add a wonderfuly manicured Classic Spiral Topiary to your living areas. The smaller topiaries make wonderful additions to tables, fire place hearths, and open counter areas. The larger topiaries fill and enliven room corners or look great next to doorways and stair cases. The 60" tall topiary in one of our medium or large urn / planters can add a touch of elegance near doorways, add elegance to corners, stairways, or in conference rooms. These lush spiral topiaries are real preserved plants. We think you will agree that artificial plastic topiaries will never have the natural textures and colors like these trees have! Sold in a standard pot (not shown).
FREIGHT NOTE ::::::: In the case of certain larger items that require Truck Freight shipping there is an additional Freight/Truck charge based upon your zip code location.
No light needed, No watering, No trimming, No maintenance Texture and color retained for years!
Size
Price
Color Qty

HFfgiSPI060

Classic Spiral Topiary Preserved

60" Height

HFfgiSPI072

Classic Spiral Topiary Preserved

72" Height

HFfgiSPI084

Classic Spiral Topiary Preserved

84" Height
You may also like...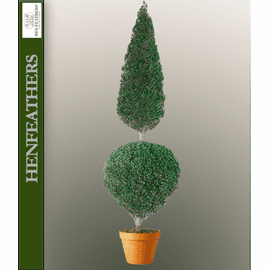 5 Sizes