Seabrook Indoor Lantern
Click to Enlarge
---
Constructed in a warm antique brass, the Seabrook Indoor Lantern has classic lines and a simple design. With large, clear glass panes, the candlelight brightens the evening, makeing a striking statement of glowing ambiance, a great accent piece inside and outside under porch.
These lanterns are available in 2 sizes: one at approximately 12" tall and the larger version at almost 16" tall. The lanterns are excellent to display as a 2 tier pair and they are large enough to be presented on the floor, stairs etc. as well as on a small side table on a stairway landing. They are also eye-catching in the evening on a coffee table under porch.
Designed for interior or under porch use. Do not expose to the elements. Clean with damp cloth. Avoid chemicals that may be harmful to finish. Never leave a burning candle unattended. Candles not included. Never leave a burning candle unattended.
Size Details
Large
Medium
10" Sq. x 15.75" H
8.5" Sq. x 11.75" H
Size
Price
Color Qty

HFnPS218

Seabrook Indoor Lantern - Medium

8.5" Sq. x 11.75"

Sorry, this item is currently out of stock!

HFnPS217

Seabrook Indoor Lantern Large

10" Sq. x 15.75" H
You may also like...
2 Sizes
2 Sizes
2 Sizes
2 Sizes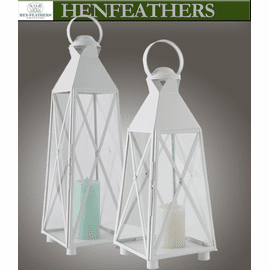 2 Sizes