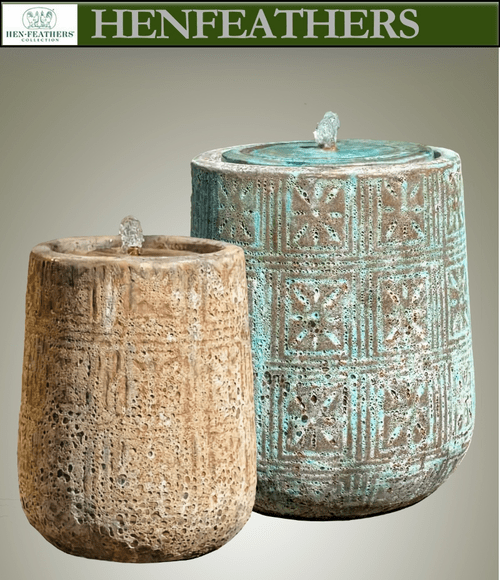 Eero Fountain
Click to Enlarge
---
With the tranquility of water, our Eero Fountains transform any space in a home, terrace, patio, or garden. The fountain features a tall bowl profile and the fountain head rests on a disc fountain plate within. But the most outstanding feature of these fountains are their incredible finishes. Beautifully textured, the fountains are available in a blue green Verdigris finish and a subtle brown yellow tan Angkor finish. The detailing is amazing and even the fountain plates match the outside finish. The choice is tough, both finishes are gorgeous. These fountains are striking in a southwestern, asian, mediterranean style garden. Actually, the fit in almost anywhere, indoors or outside as a standalone display or within a garden setting.
The Eero Fountain comes in two sizes, a large version 20" in height and a shorter medium size at 15" in height. They both enjoy the same striking profiles and finishes.
This distinctive fountain is hand cast and hand finished in our USA foundry in high density cast stone. Guaranteed outdoor durability.
DetailsNOTE: Freight Shipping included with these designs.
Verdigris Finish
Angkor Finish
Medium
Large
12" Top Dia. x 15" HBase: 8" Dia.Weight: 40 lbs
18.5" Top Dia. x 20" HBase: 11" Dia.Weight: 70 lbs.
Size
Price
Color Qty

HFC144526-3301

Eero Fountain

Medium
Verdigris Finish

HFC144527-3301

Eero Fountain

Large
Verdigris Finish

HFC144526-6501

Eero Fountain

Medium
Angkor Finish

HFC144527-6501

Eero Fountain

Large
Angkor Finish
You may also like...