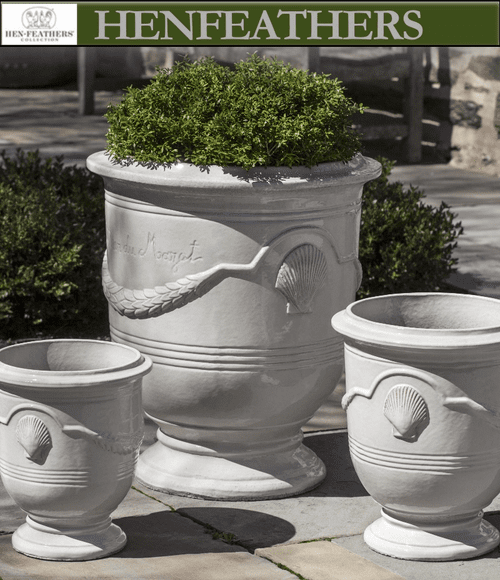 Cote d'Azur Planters Set of 3
Click to Enlarge
---
The HenFeathers Shell Cote d'Azur Planter set of 3 are a stunning 3 tier group of classic Jardiniere style urns. Finely crafted in ceramic stoneware with a deep luster glaze. The Shell Cote d'Azur Planters are great accents; poolside, beachside, indoors, on a terrace or patio, or by an entranceway.. This set of 3 planters in 3 sizes creates a strong 3 tier presentation on each looks great on its own. Each set comes in a beautiful Cream color glaze . Guaranteed outdoor durability. Glazes are hand applied and fired, and vary from piece to piece, making each piece unique.
Our glazed and terra cotta pottery is high fired between 990 (terra cotta) and 1000 (glazed) degrees centigrade to ensure frost resistance and durability. Due to the processes used in the manufacturing of our hand-made and hand-glazed containers, all variations with respect to firing, color, size and crackling are natural occurrences in the manufacturing process. The glazes on our containers consist of natural, not chemical, components and therefore the final color of the product will vary. This process creates the unique beauty of each piece.
NOTE: Freight Shipping included with this design.
Set Details
Large
Medium
Small
22.5" Dia. x 27.5" H
Base: 14.5" Dia.
Weight: 92 lbs.
14.5" Dia. x 17" H
Base: 9" Dia.
Weight: 32 lbs.
11.75" Dia. x 13.75" H
Base: 8.75" Dia.
Weight: 32 lbs.
Set of 3 Total Weight: 153 lbs..
Size
Price
Color Qty

HFC6220-5703

Cote d'Azur Planters

Antique Cream
You may also like...
3 Sizes